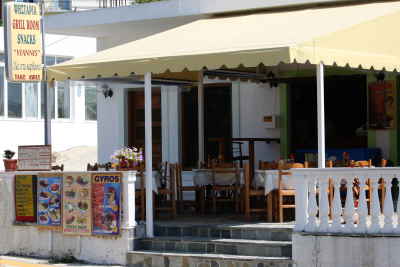 It's situated just off the main street of San Stefanos on the road to Arillas, near Town Pizza, Yiannis Grill offers fast food style take away and eat in options. It's another of San Stefanos' family run establishments and is popular with those looking for a quick bite to eat or a late night snack. It has a sheltered seating area outside where you can sit and enjoy your meal. The menu includes a wide range of foods including Gyros platters, pitas and burgers. They specialise in;
*Chicken or pork souvlaki - Cubes of seasoned meat skewered and grilled.
*Pitta bread filled with Gyros meat, pork or chicken filled with tzatziki and salad.