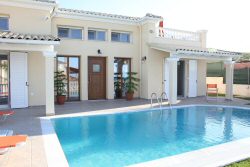 A rare opportunity to experience the fantastic resort of San Stefanos from your own luxury villa complete with private pool.
Our brand new and extremely exclusive 3 bed roomed villa, It's located in an elevated position and the views are truly breath taking. You can spend your holiday in seclusion overlooking the sea and admiring the views whether you are relaxing by the pool, having breakfast on the patio or a sundowner on the wine press table in the garden. Throughout the villa care has been taken to incorporate everything you could possibly want, whilst maintaining the best of Greek tradition.

The well designed accommodation consists of a ground floor and a loft. The ground floor has an open plan with a fully modern equipped kitchen. From this area there are doors to the private poolÂÂÂÂ  overlooking the Diapontia islands, where you can spend many pleasant moments sunbathing and enjoying the direct contact with the sun.ÂÂÂÂ  On each side of the villa there are two luxurious bedrooms, one master bedroom with a double bed and another one with two queen beds. Each bedroom has a large bathroom featured with en-suite rain/jet shower that delights the masters bedroom.ÂÂÂÂ  A modern wooden staircase leads to the loft with a beautiful wooden beamed ceiling which runs the length of the villa. There, are two double beds, a seating/study area and a delightful balcony where you can sit and enjoy the sun in a peaceful and clam atmosphere. ÂÂÂÂ 
This beautiful villa offers excellent comfort and interior full of contemporary elegance with the warmth of the earth and touch of luxury. It is equipped with all necessary facilities in the category of 5 stars such as elegant furniture, wireless internet, LCD TV, air conditioning, dishwasher, washing machine, deck chairs, parking space, private pool & wheelchair accessible... the house is perfectly adapted to philosophical principles of "slowing down" and its surroundings provide a framework for a step forward in life without hurry... the best holidays that anyone can ask for!
**In addition, the villa has a minimum Ecological "foot print" as it has a self sufficient solar power system.